10 LGBTQ+ books that are a must-read
November 28, 2020
Stories about coming out, as collectively relatable as they are in the LGBTQ+ community, are also tired. It's definitely nice to see representation in literature, but LGBTQ+ people are more than just their sexualities, important as they may be to their central identities. So, here's a list of LGBTQ+ books that definitely have more substance than your run-of-the-mill closeted to uncloseted plot!
01. Red, White and Royal Blue by Casey McQuiston
Alex Claremont-Diaz hates Prince Henry of Wales, his childhood nemesis. But seeing as his mother is the president of the United States, he's bound to a certain sense of diplomacy. However, the more time he's forced to spend with Henry, the more he begins to believe that maybe the Prince isn't so bad, after all. 
All the characters in this book are intelligent, passionate and driven – yet, they manage to still be wholly relatable. From political campaigns to unlikely friendships to the message that the youth hold the power to change the world one daring idea at a time, Red, White and Royal Blue is a book that sparks inspiration, adoration and laughter all at once.
02. Of Fire and Stars (Of Fire and Stars, #1) by Audrey Coulthurst
In a world of Gods and forbidden elemental powers, Princess Dennaleia struggles to keep her affinity a secret when she travels to another kingdom to wed her betrothed, the Prince of Mynaria. However, a growing interest in the Prince's sister and the increasing elusivity of her own powers make things more difficult that she'd expected. 
LGBTQ+ characters in fantasy settings are hard to come by, but this novel definitely does justice. With an intriguing, well-crafted world in which a revolutionary war is on the rise, Coulthurst expertly balances the conventional and unconventional, showcasing protagonists that fit the hero archetype, but in unexpected ways that leave readers aching for more.
03. When the Moon Was Ours by Anna-Marie McLemore
Miel and Sam have been inseparable since their equally odd initial appearances to their town. As they grow even closer, secrets are discovered. Meanwhile, the town witches are on the prowl to regain their powers and they begin to take an interest in Miel, who grows roses out of her wrists. They have no qualms about exposing secrets and ruining what is the start of a new life and new relationship.
Written in beautiful prose, When the Moon Was Ours is a story of magical realism. Though fairy tale-like in its structure, the contents of the story hold a modern relevance as they speak of sexual identity while upholding the omniscient intrigue of a dark and magical world.
04. You Asked For Perfect by Laura Silverman
Ariel Stone is a textbook case of an overachiever. Class valedictorian, Harvard, he wants it all. Except the pressures of trying to be the absolute best are getting to him, and he finds it harder and harder to maintain his relationships with the people around him. Add Amir, surprisingly pleasant Calculus tutor, into the mix, and Ariel might just not be able to keep up.
Everyone in grade 12, this one goes out to you. Despite being set in the U.S.A, You Asked For Perfect paints a scarily accurate picture of being in your last year of high school. With the highly relatable worries of getting into a good University and balancing a personal and academic life, the novel begs the question: Is it worth losing so much to be at the very top? 
05. I Hate Everyone But You by Allison Raskin and Gaby Dunn
Best friends Ava Helmer and Genevieve Goldman are parting ways to attend different Colleges, but they plan to keep in touch any way they can. However, while Ava sticks close to the identity she's always had, Geneive begins to change. Struggling to understand one another the way they used to, their friendship is put to the ultimate test. 
Told almost entirely from a series of texts and emails, I Hate Everyone But You is a refreshing new twist on the traditional novel format. Friendship is a central theme, while the use of labels for one's sexuality are also explored. Readers will be drawn in to the relationship between the two protagonists and learn what it means to truly accept someone for who they are.
06. Radio Silence by Alice Oseman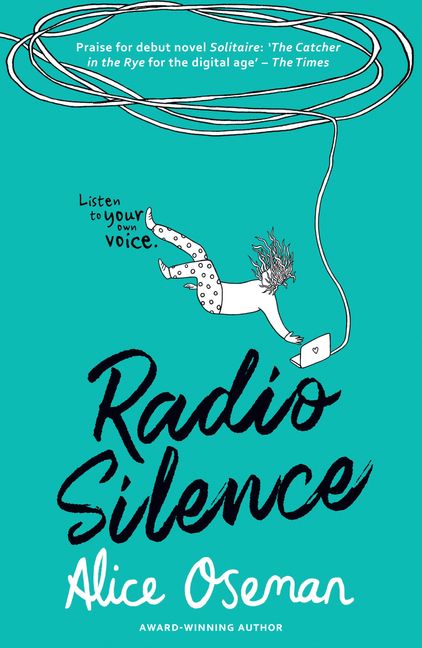 Head girl and all around ace, Frances Janvier, has very distinct public and private personas. In her last year before University, she grapples with what she's been told the future should look like for her versus what she wants it to be. Befriending someone with an unsavoury connection to her past, Frances grows to live life the way she's always wanted to.
Radio Silence is packed with LGBTQ+ characters, all of which are incredibly well-developed and interconnected by their beliefs on the education system. Winding through amateur podcasts gone viral, some dreams beginning to bloom while others are crushed, and the stark realization that each individual's fate lies in their own hands, Oseman writes an ode to the conflicted and confined youth.
07. I Was Born For This by Alice Oseman
Oseman puts it best on her Goodreads page when she says, "…this is a book about obsession and hero worship and an internationally famous trans musician, it's about a girl going to london for the first time to meet a friend she's known for years but never met, it's about three boys who started from nothing and became gods, it's about teens who sit in bed reading fanfic and dreaming of being rich and famous and in love, dreaming of a life that is something beyond what they have."
A stunning story of dreaming for yourself, above all else, I Was Born For This will tug at your heartstrings like no other.
08. The Song of Achilles by Madeline Miller
Patroclus is an exiled young prince who is befriended by Achilles, warrior and demigod. As they grow, so does their affection for each other, but love may not be enough to keep them together. Through the years, their relationship portrays the detriments of war, distance, glory and infallible loyalty.
Written as a different take on the known mythology of Achilles, Miller sheds light on the likelier nature of Achilles and Patroclus' relationship. The Song of Achilles is immensely raw and heartfelt, and is bound to invoke visceral reactions from any reader.
09. Dreadnought (Nemesis, #1) by April Daniels
After inheriting the powers of superhero, Dreadnought, Danny Tozer wrestles with coming out as trans in public and deals with the various responses while still figuring out how to master her powers. In a time of great confusion and instability, she has to sort through the problems she faces if she's to save humanity from the wrath of Dreadnought's murderer, a cyborg named Utopia. 
A classic superhero story with a twist, Dreadnought is action-packed just as much as it is introspective. With supervillains that are trans-exclusionary radical feminists and the tackling of ideas like why don't superheroes police the government?, Daniels masterfully weaves together a tale that both excites and moves a variety of reader demographics.
10. The Priory of the Orange Tree by Samantha Shannon
Three women and one man, all of different standings, experience their fates intertwining as long-standing feuds dissipate in favour of working together to quell a rising chaos. In a final battle of good and evil, everyone must face their demons and grow like they never have before.
An epic to rival them all, The Priory of the Orange Tree is a fantasy novel that includes dragons, feminism, assassins, and classic quests. The world is thoroughly developed, packed with impressive lore and a full roster of interesting characters.